Ask the Vet
For questions and concerns on your animals' health, we recommend you contact the Colorado State University Veterinary Teaching Hospital at (970)297-5000 and speak with Dr. Rachel Oman or one of the other Livestock Service veterinary staff for professional advice. The CSU Livestock Services veterinarians are usually able to speak with you on the phone and are prompt in returning calls.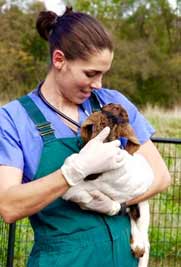 Dr. Rachel Oman, DVM, MS, DACVIM, is an Assistant Professor in the Livestock Medicine and Surgery Service at Colorado State University in the Department of Clinical Sciences. She works at the Large Animal Hospital at the CSU James L. Voss Veterinary Teaching Hospital where she teaches veterinary students, interns and house officers while attending to livestock patients. Dr. Oman obtained her DVM degree from Colorado State University in 2012. She obtained a MS from Oklahoma State University while completing a large animal internal medicine residency. After completing her residency, Dr. Oman joined the Food Animal faculty at the University of Missouri where she worked in the teaching hospital and as an ambulatory veterinarian. Dr. Oman returned to Colorado State University as a faculty member in the Livestock Services Section in December of 2020.  Her clinical interests include lameness and metabolic diseases and her primary research interest is treatment and prevention of obstructive urolithiasis.
To contact Dr. Oman, please call the CSU Veterinary Teaching Hospital at (970)297-5000 and follow the menu for equine and livestock. If you have a non-emergent question for Dr. Oman, fill out the form below and click Submit at the bottom.
Please fill out the form below ⇓